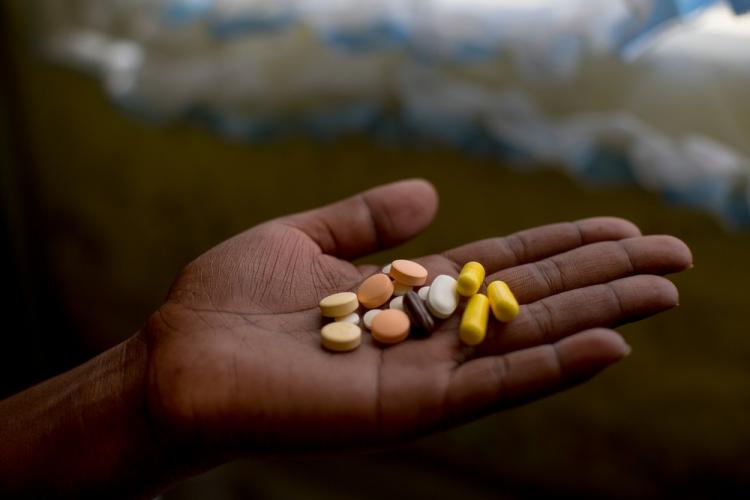 Published in The Lancet Infectious Diseases, new MSF findings on the combined use of bedaquiline and delamanid show promising results.
Drug-resistant tuberculosis (TB) remains a major threat to global health: Of the ten million people who fell ill with TB in 2016 alone, over half a million are estimated to have resistance to the most effective drugs used to treat TB, rifampicin and isoniazid. For those with highly resistant strains of TB, very few treatment options exist.
For doctors like Dr. Gabriella Ferlazzo, TB Advisor with MSF, drug-resistant TB (DR-TB) poses the most serious challenges: the tools to diagnose and treat patients with these strains remain limited and often ineffective. Until recently, only one in five people treated for the most extensive form of resistance were cured, and often only after years of painful and toxic treatment with drug regimens containing up to seven different drugs.
In 2013 and 2014, results from early phases of clinical trials on two new TB drugs called delamanid and bedaquiline gave promising evidence that both drugs were effective in treating DR-TB. The community of professionals fighting TB, including MSF, was abuzz with a sense of hope and optimism.
"Doctors feel an overwhelming sense of frustration sitting in front of patients with limited treatment options, knowing that their patients' journeys would be long, arduous and often futile," recalls Gabriella. "Suddenly we had two promising new drugs to offer, which were potentially more effective and had fewer side effects."
Recognising the potential for both drugs early on, MSF TB teams in several countries explored ways to provide delamanid and bedaquiline for patients with limited treatment options. MSF began treating patients with DR-TB using the promising new drugs under 'compassionate use' conditions starting in 2013, before the drugs received conditional approval for use. As regulatory authorities approved their use, MSF has introduced the two drugs in 13 projects across 11 countries worldwide. MSF also started supporting doctors faced with making difficult treatment decisions, and put in place a system to monitor safety around the use of the new drugs.
Yet little solid evidence or guidance exists for using delamanid and bedaquiline in combination for patients with high levels of drug resistance. To bridge this gap in evidence, in 2016 MSF pooled data to measure both the safety and early effectiveness of the combination among patients in Armenia, India and South Africa who received the two drugs together as part of their treatment. The results were promising: of 23 patients with high levels of drug resistance, 17 (74%) tested negative for TB after six months of treatment, an early indicator that the treatment may be successful. In addition, no significant side effects were observed, relieving earlier concerns about the effect both drugs could have on the electrical activity of the heart.
"We were excited to find such promising results under real field conditions. Even more reassuring was that safety concerns about how both drugs would affect the electrical activity of the heart weren't justified, with no cases of cardiac arrhythmias or unexplained deaths reported," explains Dr. Petros Isaakidis, Operational Research Coordinator with MSF. "With data coming from three TB epidemic hotspots around the world, the study offers concrete and practical insights into the potential of this drug combination."
This week, The Lancet Infectious Diseases publishes the study findings which call for the wider use of delamanid and bedaquiline in combination throughout TB programmes for patients who need them. While two clinical trials using both drugs have started enrolling participants, their results are only expected in three to five years' time.
"Our patients simply can't wait for clinical trials," says Gabriella. "These small but highly reassuring results from field conditions suggest that these drugs are safe and effective for use in combination among DR-TB patients with high levels of resistance. We believe it's a clinical and public health responsibility to provide the best treatment available, and currently these drugs offer the best hope we have."
Also find the results of the study here.